Spring is in the air here- at least on some days- which means it is time to get serious about gardening. Here are a few new books that will help you grow more this summer:
Edible Estates: Attack on the Front Lawn by Fritz Haeg.  "Much like a homegrown tomato, Edible Estates is at once delectable, inspiring and healthy. Read it: you'll never look at your front lawn the same way again."~ Elizabeth Kolbert
Flowers and Herbs of Early America by Lawrence D. Griffith. Stunning photos and historical insights give depth to some garden favorites. Just the names- Pennyroyal, All-heal, Ragged Robin, Viper's bugloss- speak of the rich history of these plants.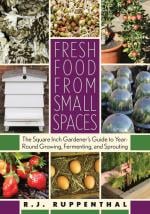 Fresh Food from Small Places: the Square Inch Gardener's Guide to Year-Round Growing, Fermenting, and Sprouting by R. J. Ruppenthal. No space is too small or too urban! No dirt at all? No problem- Ruppenthal has practical plans for balconies and windowsills to be used for vegetable production and counter tops to be used for sprout and mushroom production.
~Diane